JALAPENOS, BAKED JALAPENO POPPERS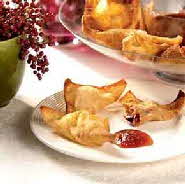 Makes 24
Ingredients
• 12 jalapeno peppers, about 2 1/2 inches long
• 1 cup grated Cabot Mild or Sharp Cheddar* (about 4 ounces)
• 3 ounces cream cheese
• 1/4 teaspoon garlic powder
• 1/4 teaspoon ground chipotle pepper
• 2 large eggs
• 2/3 cup unflavored dry bread crumbs
• 1/2 teaspoon salt
• Cabot Sour Cream
*Or use a spicy flavored Cabot Cheddar, such as Chipotle or Habanero, omitting ground chipotle pepper.

Directions
1. Preheat oven to 325ºF. Lightly oil baking sheet and set aside.

2. Cut peppers in half lengthwise; scrape out and discard seeds.

3. In small bowl, mix together cheddar, cream cheese, garlic powder and chipotle pepper; fill each pepper half with some of mixture.

4. In one bowl, lightly beat eggs until combined and frothy. In another bowl, stir together bread crumbs and salt. Roll each filled pepper in egg, then in bread crumbs. Place on baking sheet.

5. Bake until tender and browned, about 30 minutes. Serve warm, with sour cream for dipping.

Nutrition Analysis
Calories 171 , Total Fat 13g , Saturated Fat 8g , Sodium 893mg , Carbohydrates 5g , Dietary Fiber <1g , Protein 8g , Calcium 212mg

Recipe & photo courtesy of Cabot Creamery Cooperative
www.cabotcheese.com