PORK KABOBS WITH TEQUILA AND PINEAPPLES RECIPE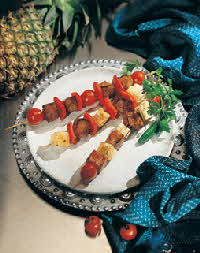 Makes 4 servings.
Ingredients
• 1/2 pound pork loin, in chunks
• 5 chili peppers, finely chopped
• 1 tablespoon ginger, finely chopped
• 1/4 cup tequila
• 4 tablespoons soy sauce
• 2 bell peppers, chopped in chunks
• 2 cups pineapple chunks, freshly chopped
• 12 cherry tomatoes
• 3 garlic cloves, finely chopped
• 3 tablespoons vegetable oil
• 4 tablespoons lemon juice

Cooking Directions
Mix chili peppers, garlic, ginger, oil, and tequila, soy sauce and lemon juice. Place pork in a deep dish. Add the marinade and place in the refrigerator for 6 or more hours. Take out the pork chunks from the marinade and insert them onto metal skewers, alternating between bell peppers, pineapples, and cherry tomatoes. Place marinade in a pot and cook for 8 minutes to thicken slightly. Place over the grill until golden and pour marinade over the skewers continually.
Serving Suggestions
A flavorful marinade for these kabobs make a tasty addition to your tailgate party.
Nutrition Facts
Calories 565 calories; Protein 51 grams; Fat 29 grams; Sodium 1027 milligrams; Cholesterol 128 milligrams; Carbohydrates 17 grams

Recipe and photo courtesy of National Pork Board. For more information about The Other White Meat, visit TheOtherWhiteMeat.com