PISTACHIO-CRUSTED PORK TENDERLOIN BRUSCHETTA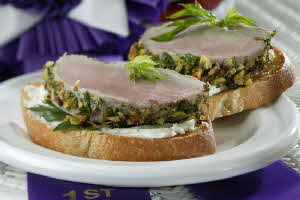 Makes 18 appetizers
Ingredients
• 1 pound pork tenderloin
• 3/4 cup lightly packed fresh parsley leaves
• 3/4 cup pistachio nuts OR slivered almonds
• 2 tablespoons grated lemon peel (about 2 lemons)
• 1/4 teaspoon salt
• 1/4 cup fresh lemon juice
• 4 oz. soft, mild goat cheese, spinach-artichoke cheese spread OR olive tapenade
• 1/2 of 24-inch-long baguette, diagonally sliced and lightly toasted

Cooking Directions
Heat oven to 425 degrees F.

Place parsley and nuts in blender or food processor container. Cover and blend or process just until crumbly, but not paste like. Transfer mixture to an 18-inch-long piece of waxed paper. Add lemon peel and salt; lightly mix until combined.

Place lemon juice in pie plate. Dip pork tenderloin in juice; coat in nut mixture using waxed paper to firmly press nut mixture on pork.

Place pork on rack in shallow roasting pan. Roast in heated oven for 20-30 minutes or until internal temperature is 155 degrees F.

Cool pork on rack for 20 minutes.
Loosely cover with foil and chill for several hours or overnight.

To serve, carve pork into 1/2-inch-thick slices. Lightly spread baguette slices with cheese or tapenade. Place pork on top.
Garnish Suggestions:
Dollop tops with additional cheese and/or sprinkle with snipped parsley, chives or green onion; chopped pistachio nuts; long shreds of lemon peel
Serving Suggestions
Exploding with flavor—nuts, parsley and lemon create a savory and attractive "crust" on the pork, and purchased spreads add an unforgettable finish.

Nutrition Facts
Calories 119 calories; Protein 8 grams; Fat 6 grams; Sodium 146 milligrams; Cholesterol 17 milligrams; Saturated Fat 2 grams; Carbohydrates 9 grams

Recipe & photo courtesy of National Pork Board. For more information about The Other White Meat, visit TheOtherWhiteMeat.com