OCTOBER 15
Today in Food History
• [Global Handwashing Day] (annually, Oct 15
• National Roast Pheasant Day (Pheasant Trivia)
(Roast Pheasant Recipe --- Pheasant Quotes)
• National Mushroom Day [Mushroom Council] (April 16 is Day of the Mushroom)
(Mushroom Trivia --- Mushroom Recipes --- Quotes)
• National Chicken Cacciatore Day (Recipe)
• National Cheese Curd Day [Culver's Restaurants]
• UK: Big Cheese Weekender (Oct 13-15, 2023)
[Academy of Cheese]
• UK: [British Egg Week] (Oct 9-15, 2023)
(Egg Trivia & Facts --- Egg Tips --- Egg Quotes)
• UK: National Baking Week (Oct 14-20, 2023)
• UK: Seed Gathering Season (Sept 23-Oct 23, 2023
[The Tree Council] Gather seeds, fruits and nuts which can be nurtured to grow the trees of the future.

On this day in:
1582 Yesterday was October 4 in most Catholic countries due to the Gregorian Calendar Adjustment. (see Oct 4 for details)
1794 The first U.S. silver dollar coins were struck and released into circulation.
1869 The Manhattan Eye, Ear and Throat Hospital opened in New York.
1895 Henry D. Perky received U.S. patent No. 548,086 for Shredded Wheat. Whole wheat is boiled, dried, pressed into thin shreds and finally baked. Perky presented his machine for producing 'shredded wheat' at the World's Columbian Exposition in Chicago, Illinois in 1893.
1944 Don Stevenson of the music group 'Moby Grape' was born.
1953 'The Teahouse of the August Moon' opened on Broadway (it ran for 1,027 performances).
1959 Emeril Lagasse was born in Fall River, Massachusetts. American celebrity chef, restaurateur (13 restaurants), cookbook author and cooking show host ('Emeril Live', 'Essence of Emeril', etc).
[Official website: www.emerils.com]
1988 'Red Red Wine' by UB40 hits number 1 on the charts.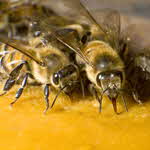 1990 Killer bees reach the U.S. in the city of Hidalgo in southern Texas. Due to their intense swarming behavior, these non-native bees earned the name "killer bee". Beginning in the 1950s, they extended their range north through Central America. Their original source was from cross-breeding with tropical African bees imported into Brazil for experimental work.
1996 Pierre Franey died. A French chef who became famous as the chef of 'Le Pavillon' restaurant in New York City from 1945 to 1960. He published several cookbooks and collaborated with Craig Claiborne on the New York Times food column, 'The 60 Minute Gourmet'
2000 Konrad (Emil) Bloch died. Nobel prize winner for his work on cholesterol and fatty acids. He discovered that high levels of cholesterol may lead ultimately to increased risk of heart attacks.
2009 New York State banned open-burning of waste and debris throughout the state.
2018 Dorcas Bates Reilly died (born July 22, 1926). As Campbell's test kitchen supervisor she created the classic Green Bean Casserole. She also created hundreds of recipes throughout her career.
(Classic Green Bean Casserole Recipe)