DURIAN FRUIT TRIVIA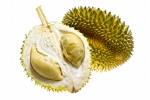 Durian is a fruit: a big, green thorny fruit native to Malaysia and Indonesia. In fact, it is considered "King of the Fruit" throughout South East Asia. It has a creamy texture, and the taste of its flesh sends its eaters into ecstasies (and it has the reputation of being an aphrodisiac) But is has one drawback. It has an extremely offensive odor described as garlic like, similar to stinky feet, and like Limburger cheese. Some countries even ban the presence of durian in hotels and on public transportation due to its offensive smell.
Durian trees can grow to over 150 feet in height, and durian fruit can be 12 inches long and 6 inches in diameter. The fruit has a thorn covered husk and can weight up to 7 pounds. Durian fruit falling from high branches in a tree can be extremely dangerous to anyone standing under the tree.
"When a durian strikes a man in its fall, it produces a dreadful wound, the strong spines tearing open the flesh, while the blow itself is very heavy."
Alfred Wallace (1823-1913)

CULINARY SCHOOLS
& COOKING CLASSES
From Amateur & Basic Cooking Classes to Professional Chef Training & Degrees - Associates, Bachelors & Masters - More than 1,000 schools & classes listed for all 50 States, Online and Worldwide
FOOD TRIVIA and FOOD FACTS
Please feel free to link to any pages of FoodReference.com from your website.
For permission to use any of this content please E-mail: [email protected]
All contents are copyright © 1990 - 2022 James T. Ehler and www.FoodReference.com unless otherwise noted.
All rights reserved. You may copy and use portions of this website for non-commercial, personal use only.
Any other use of these materials without prior written authorization is not very nice and violates the copyright.
Please take the time to request permission.
FoodReference.com (since 1999)
FOOD TRIVIA and FOOD FACTS SECTION