DILL and DILL SEED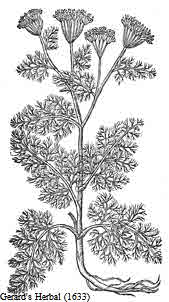 Dill (Anethum graveolens), a member of the parsley or carrot family (Umbelliferae), is native to southern Europe, and is widely cultivated and naturalized throughout Europe, Asia and the Americas. Both the seeds and leaves are widely used in cooking, and the plant has also been used to make a green dye.

Dill is reputed to have a calming effect on the digestive tract. It was once given to crying babies, thus deriving its name from the Old Norse, dilla, meaning "to lull." Dill is also reputed to cure hiccups, stomach aches, insomnia, and bad breath. Dill's most famous culinary use - the Dill pickle - is at least 400 years old.

In medieval Europe it was believed that dill protected against curses and witchcraft. It was also thought to make one drowsy.

An essential oil obtained from the fruits and leaves of the dill plant, is used not only for pickles, but also in chewing gums and candy.

Dill seeds are very small and very light. It takes more than 10,000 dill seeds to make an ounce.

One tablespoon of dill seed contains more calcium than a cup of milk.

Please feel free to link to any pages of FoodReference.com from your website.
For permission to use any of this content please E-mail: [email protected]
All contents are copyright © 1990 - 2022 James T. Ehler and www.FoodReference.com unless otherwise noted.
All rights reserved. You may copy and use portions of this website for non-commercial, personal use only.
Any other use of these materials without prior written authorization is not very nice and violates the copyright.
Please take the time to request permission.
FOOD TRIVIA and FOOD FACTS
CULINARY SCHOOLS
& COOKING CLASSES
From Amateur & Basic Cooking Classes to Professional Chef Training & Degrees
FoodReference.com (since 1999)
FOOD TRIVIA and FOOD FACTS SECTION