See also: Article on Shrimp --- Shrimp Recipes
SHRIMP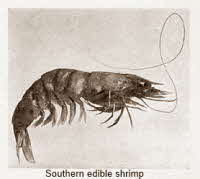 The Sneads Ferry Shrimp Festival was designated as the Official Shrimp Festival of North Carolina in 2011.

Over 1 billion pounds of shrimp is consumed each year in the U.S., almost 90% of it from Asia and Central America.
(Food Arts, 6/2009)
About 80% of shrimp consumed in the United States each year is eaten in restaurants.
Some 40% of the shrimp eaten in the U.S. is farmed raised shrimp from Asia and South America.
World shrimp production is over 5 billion pounds a year, about 20 % of which is farmed.
Salmon and shrimp are the most popular seafoods in American restaurants. In 2001, shrimp replaced canned tuna as America's favorite seafood overall.

FOOD TRIVIA and FOOD FACTS
Please feel free to link to any pages of FoodReference.com from your website.
For permission to use any of this content please E-mail: [email protected]
All contents are copyright © 1990 - 2023 James T. Ehler and www.FoodReference.com unless otherwise noted.
All rights reserved. You may copy and use portions of this website for non-commercial, personal use only.
Any other use of these materials without prior written authorization is not very nice and violates the copyright.
Please take the time to request permission.


FoodReference.com (since 1999)
FOOD TRIVIA and FOOD FACTS SECTION