See also: Bread
SLICED BREAD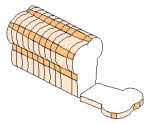 Otto Frederick Rohwedder has been called the father of sliced bread. He worked for many years on developing a bread slicer, starting in 1912. His first efforts met with resistance from bakers, who informed him that the sliced bread would quickly go stale. By 1928, Rohwedder had finally designed a slicer that would also wrap the bread.

On January 18, 1943 the U.S. Secretary of Agriculture banned the sale of sliced bread and the manufacture of metal bread slicing machines. The Reason: Sliced bread went stale faster, therefore Americans used more wheat, needed to feed soldiers. Bread slicing machines also needed metal parts for repairs - metal that was needed for manufacturing ships, tanks, guns etc.

For many years, Battle Creek, Michigan has claimed to be the first place Rohwedder's bread slicing machine was used, and the first the first place where sliced bread was sold. However, there is no evidence to back up this claim.
New documented evidence has come to light recently, which refutes the Battle Creek claim.
Karen L. Hicklin, the Director of the Livingston County Library in Missouri was kind enough to give me the following information.
The Chillicothe, Missouri Constitution-Tribune of July 7, 1928 carried a story of the new machines first use at M.F. Bench's Chillicothe Baking Company, 100 Elm Street in Chillicothe, Missouri. According to the story, Mr. Bench assisted Rohwedder in the fine tuning the new bread slicing machine.

So - Sliced bread was born in Chillicothe, Missouri, on July 7, 1928.

Please feel free to link to any pages of FoodReference.com from your website.
For permission to use any of this content please E-mail: [email protected]
All contents are copyright © 1990 - 2023 James T. Ehler and www.FoodReference.com unless otherwise noted.
All rights reserved. You may copy and use portions of this website for non-commercial, personal use only.
Any other use of these materials without prior written authorization is not very nice and violates the copyright.
Please take the time to request permission.


FOOD TRIVIA and FOOD FACTS
FoodReference.com (since 1999)
FOOD TRIVIA and FOOD FACTS SECTION