See also: Article on Cornish Game Hens;
Rock Cornish Hens; Cornish Game Hen Recipes
CORNISH GAME HENS


Rock Cornish Game Hens, Cornish Hens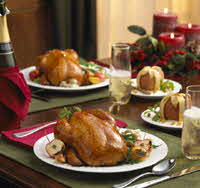 Cornish Game Hens are small chickens with mostly white meat that are suitable for single servings. In order to be classified as such, a Cornish Game Hen must be less than 2.2 pounds in ready-to-cook weight.*

The Cornish Game Hen, often called the "Rock Cornish Game Hen," was originally bred by Jacques and Alphonsine (Therese) Makowsky in Connecticut in 1950.

The Cornish Game Hen was a result of crossbreeding the short-legged, plump-breasted Cornish chicken with various other chickens, including the White Plymouth Rock variety.

Tyson Foods, Inc., was instrumental in the development of the Cornish Game Hen domestically. In the early 1950s, Tyson founders began raising Cornish Game Hens and by 1980, the company was the largest domestic grower of the product.

Today, nearly two-thirds of Cornish Game Hens sold in the United States come from Tyson.

Cornish Game Hens are delicious meal options that are as much a hit at home as they are in some of America's finest restaurants.

In fact, restaurants incorporate Cornish Game Hens into their menus, largely because of the protein's versatility, attractive presentation possibilities and ease of preparation.**
Recipes using Cornish Game Hens are especially popular in the winter months, as they fulfill the seasonal craving for hearty comfort foods.**

Some of today's most popular preparation ideas for Cornish Game Hens include easy and quick marinades and bold, sweet flavors.

Season Cornish Game Hens with a blend of lemon pepper, garlic powder, olive oil and salt and pepper to make a delicious meal that is perfect for Thanksgiving gatherings.

Or perhaps, prepare apple-glazed Cornish Game Hens by creating a glaze of apple juice concentrate, cinnamon and lemon slices. Serve with a side of roasted apples to make a unique and festive meal that holiday guests will remember for years.***
* U.S. Department of Agriculture
** Nation's Restaurant News, 2003
*** Recipe idea courtesy of Tyson Foods

FREE Magazines
and other Publications
An extensive selection of free magazines and other publications
FOOD TRIVIA and FOOD FACTS
Please feel free to link to any pages of FoodReference.com from your website.
For permission to use any of this content please E-mail: [email protected]
All contents are copyright © 1990 - 2023 James T. Ehler and www.FoodReference.com unless otherwise noted.
All rights reserved. You may copy and use portions of this website for non-commercial, personal use only.
Any other use of these materials without prior written authorization is not very nice and violates the copyright.
Please take the time to request permission.
CULINARY SCHOOLS
& COOKING CLASSES
From Amateur & Basic Cooking Classes to Professional Chef Training & Degrees
FoodReference.com (since 1999)
FOOD TRIVIA and FOOD FACTS SECTION