Cornish Game Hens
See Also:
Cornish Game Hen Trivia;
Cornish Game Hen Recipes
Get Your Game On: Cornish Game Hens Mix Up the Menu This Holiday Season
The Cornish Game Hen was first bred in 1950 and was the result of crossbreeding the short-legged, plump-breasted Cornish chicken with various other chickens. Shortly after it was developed, Tyson founders began raising Cornish Game Hens, and by 1980, was the largest domestic producer of the product. Today, nearly two-thirds of Cornish Game Hens sold in the United States come from Tyson.

Unlike a full-sized chicken, Cornish Game Hens are entirely white meat and are sold in 2.2 lbs. sizes or less. They are available for purchase at major grocery retailers nationwide.

Much like larger chickens, Cornish Game Hens can be stuffed or glazed and served with a variety of traditional holiday side dishes. Roasting is the most common preparation method for Cornish Game Hens, although braising, grilling and even frying bring out its great taste and flavor too.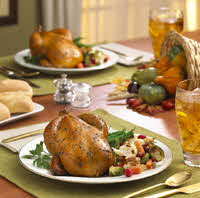 Cornish Hens –
A Winning Game Plan for Holiday Meals
This holiday season, put a new, customized twist on the main dish – serve Cornish Game Hens. With perfect portion sizes and less cooking time than most holiday proteins, Cornish Game Hens spice up the menu with an easy-to-prepare yet personalized departure from the traditional.

"Because they are small, individually sized birds, Cornish Game Hens can be easily prepared in many different ways for your guests," said Cary Richardson, director of marketing, Tyson Foods. "They give professional and amateur chefs alike the perfect solution for pleasing every palate."

To learn more about using Cornish Game Hens to create the perfectly personalized holiday meal, go to www.tyson.com.