BACON, LETTUCE AND TOMATO BRUSHETTA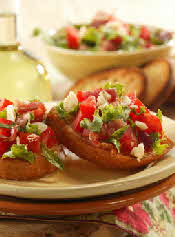 Makes about 24 appetizers.
8-10 slices bacon, crispy cooked and crumbled
3-4 Roma (plum) tomatoes, seeded and chopped (about 1 1/3 cup)
1 cup chopped leafy green lettuce
2 tablespoons chopped fresh basil leaves
1/4 teaspoon ground pepper
Approximately 1/3 cup olive oil
1/2 package (16-oz.) twin French bread loaves, cut in 1/4-inch slices
1/3 cup favorite crumble cheese, blue cheese or feta (optional)
Cooking Directions
In medium bowl, stir together all topping ingredients; set aside. Brush olive oil on both sides of bread slices; place on baking sheet. Bake at 400 degrees F., turning once, for 7 minutes per side or until crisp and golden brown; cool. Spoon about 1 tablespoon topping on each toast round.*

* Or, serve topping in a small bowl, surrounded by the toast rounds.

Tailgate Tip: Prepare and refrigerate topping ingredients and bake toast rounds ahead of time. For best flavor, stir together topping ingredients just before serving.

Serving Suggestions
Turn this popular flavor combination into bite-size appetizers with an Italian twist.

Nutrition Facts (Analysis is for one piece).
Calories 68 calories;
Protein 2 grams; Fat 5 grams; Sodium 121 milligrams; Cholesterol 2 milligrams; Saturated Fat 1 grams; Carbohydrates 6 grams; Fiber 1 grams
Recipe and photo courtesy of National Pork Board. For more information about The Other White Meat, visit TheOtherWhiteMeat.com