Easy Grilling Recipes & 60 Second Cocktails
Bacardi, Besh, Stowe & USO Celebrate "Salute to Summer's Best 60 Second Cocktails" Program
Links to Recipes below
Add flavor to your summer grilling with Bacardi, USA's "60 Second Cocktail" guide, a program launched by Bacardi, USA in association with the USO to support our country's heroes. This summer, famous Chef John Besh has crafted delicious recipes that any cooking enthusiast can grill and enjoy. Besh teamed up with seasoned mixologist Bryan Stowe, both former Marines, to create the "60 Second Cocktail" guide, a mouth-watering menu of grilling and cocktail recipes. Each recipe utilizes the exquisite taste of Bacardi products to create flavorful dishes perfect for any summer feast!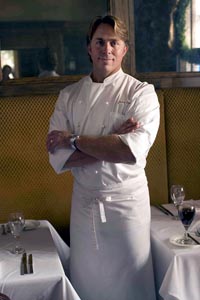 Besh's recipes teach grilling lovers how to master the art of pairing Bacardi products with your dishes to discover the classic flavors of summer with quick and easy meals! The "60 Second Cocktails" guide features Besh's healthy, original grilling recipes, easily prepared in under 10 minutes. Recipes such as the 'Grilled Chicken Breast with Tequila Cazadores Reposado Lime Glaze' or the 'Grilled Flank Steak with Louisiana Peach and Grey Goose Citron Glaze' pair perfectly with the featured spirits to draw out natural flavors while adding an extra kick.

EASY GRILLING RECIPES
~ Grilled Watermelon, Tomato and Goat Cheese Salad
~ Bacardi Grand Melón Pepper Jelly Vinaigrette
~ Grilled Flank Steak with Louisiana Peach and Grey Goose Citron Glaze
~ Grilled Chicken Breast with Tequila Cazadores Reposado Lime Glaze
~ Grilled Peaches with Bacardi Gold Rum
60 SECOND COCKTAILS
Bacardi Hand-Shaken Daiquiri; Grey Goose Fresh Berry Lemonade
Cazadores Margarita; Bacardi Limón & Iced Tea
Dewar's Callaway Cocktail; Bombay Sapphire Collins