Grilled Flank Steak
with Louisiana Peach and Grey Goose Citron Glaze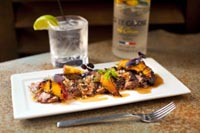 Chef John Besh's Easy Grilling Recipes
This summer, famous Chef John Besh has crafted delicious recipes that any cooking enthusiast can grill and enjoy. Besh teamed up with seasoned mixologist Bryan Stowe, both former Marines, to create the "60 Second Cocktail" guide, a mouth-watering menu of grilling and cocktail recipes. Each recipe utilizes the exquisite taste of Bacardi products to create flavorful dishes perfect for any summer feast!

Grilled Flank Steak with Louisiana Peach & Grey Goose Citron Glaze
Serves 6
Ingredients
- 3 pounds flank steak
- 2 teaspoons canola oil
- 1 shallot, minced
- 1 clove garlic
- 1 teaspoon ginger, minced
- 1/4 cup rice wine vinegar
- 1¼ cup over ripe peaches, roughly chopped
- 1 tablespoon sambal chili paste
- 1/2 cup Grey Goose® Citron Flavored Vodka
- 1/4 cup sugar
- Salt and pepper to taste

Directions
1. In a small sauce pan cook the canola oil, shallot, garlic and ginger over medium heat until the shallot becomes translucent but not brown.

2. Add the remaining ingredients and bring to a boil on high, before removing and seasoning with salt and pepper to taste.

3. Season flank steak with salt and pepper. Coat with olive oil and grill over medium heat. Cook until rare or desired temperature.

4. Slice flank steak thin and serve with glaze.

MORE EASY GRILLING RECIPES

• Salute to Summer Article

• Grilled Watermelon, Tomato and Goat Cheese Salad

• Grilled Chicken Breast, Tequila Cazadores Reposado Lime Glaze

• Grilled Peaches with Bacardi Gold Rum