Grilled Chicken Breast With Tequila Cazadores Reposado Lime Glaze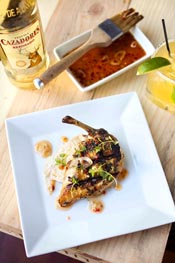 Chef John Besh's Easy Grilling Recipes
This summer, famous Chef John Besh has crafted delicious recipes that any cooking enthusiast can grill and enjoy. Each recipe utilizes the exquisite taste of Bacardi products to create flavorful dishes perfect for any summer feast!
Grilled Chicken Breast
with Tequila Cazadores Reposado Lime Glaze
Serves 6

Ingredients
• 1/2 cup rice wine vinegar
• 4 tablespoons Vietnamese fish sauce
• 4 tablespoons sugar
• 3 tablespoons fresh lime juice
• 1 clove fresh garlic, peeled
• 2-3 teaspoons sambal chili paste
• 3 tablespoons Tequila Cazadores® Reposado
• 6 boneless chicken breasts
• 1 lime, zested

Directions
1. Combine wine vinegar, fish sauce, sugar, lime juice, garlic, sambal, and Tequila Cazadores Reposado into a food processor and puree for a moment or so with 1/2 cup water.
Do not worry about straining the sauce.
Reserve about 1 cup of sauce.

2. Marinate chicken breast in remaining glaze for 20 minutes.
Remove chicken from marinade and grill on a preheated grill over medium heat for about 4 minutes on each side.

3. Top with grated lemon zest and serve with a side the glaze.

MORE EASY GRILLING RECIPES
• Salute to Summer Article

• Grilled Watermelon, Tomato and Goat Cheese Salad

• Grilled Flank Steak with Louisiana Peach and Grey Goose Citron Glaze

• Grilled Peaches with Bacardi Gold Rum