Grilled Watermelon, Tomato & Goat Cheese Salad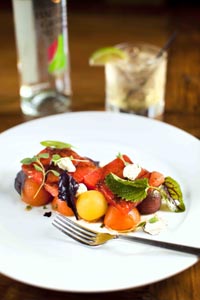 Chef John Besh's Easy Grilling Recipes
The hotter the grill is the better the "grill marks" will be left on the melon. I love the spicy pepper jelly vinaigrette over the melon before it's grilled because the sugars will quickly caramelize, creating an incredible flavor. However, feel free to substitute what ever vinaigrette you may have on hand.
Grilled Watermelon, Tomato And Goat Cheese Salad
Serves 6
Ingredients
* 6 large slices seedless watermelon, rind removed

* 2 tablespoons Bacardi Grand Melón Pepper Jelly Vinaigrette (recipe below)
* 1 tablespoon balsamic vinegar
* 3 tablespoons olive oil
* 1 clove garlic, minced
* 1 pinch sugar
* 1 sprig basil, chopped
* 2 cups tomatoes, peeled (mixed colors of smaller varieties are best)
* 1/2 cup fresh goat cheese
* 2 or 3 handfuls of young lettuces
* Salt and pepper to taste
* Fresh garden herbs such as chives, chive blossoms, chervil, parsley and/or dill

Directions
1. Marinate the watermelon in the Bacardi Grand Melón Pepper Jelly Vinaigrette for several minutes before grilling over high heat. Grill each both sides of the watermelon for several minutes and remove.
2. In a small mixing bowl whisk together the vinegar, olive oil, garlic, sugar and basil together with enough salt and pepper to tasted.

3. Toss the small tomatoes with the vinaigrette in the bowl and place on individual plates or a platter along with the grilled watermelon.

4. Crumble the goat cheese over the top of the tomatoes and watermelon. Toss the lettuces in the vinaigrette remaining in the small bowl and serve over the top of the salad.

5. Garnish with what ever fresh garden herbs that you have available.

BACARDI GRAND MELÓN PEPPER JELLY VINAIGRETTE
Yields 4 cups
* 2 red peppers, brunoise
* 1 cup pepper jelly
* 1/2 cup red wine vinegar
* 1 teaspoon sambal chili paste
* 2 cup canola
* 1/2 cup Bacardi Grand Melón Flavored Rum
* Salt and black pepper to taste
Directions
In a large mixing bowl combine all ingredients and whisk until well combined.

MORE EASY GRILLING RECIPES
• Salute to Summer Article

• Grilled Flank Steak with Louisiana Peach and Grey Goose Citron Glaze

• Grilled Chicken Breast, Tequila Cazadores Reposado Lime Glaze

• Grilled Peaches with Bacardi Gold Rum