TRADITIONAL YORKSHIRE PUDDING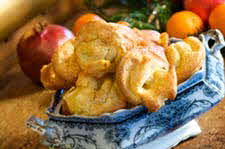 This indulgent staple on the British holiday table is served fresh from the oven, crispy on the outside and soft on the inside.
Why Try? Yorkshire pudding is perfect for 'sopping up' a roast beef's natural juices and reduced wine pan sauce.
Foodie Byte: Modest variations can be made to the traditional recipe; try adding 1/2 cup of finely shredded cheddar cheese or Stilton Cheese and 1/4 cup of minced fresh chives. Once the pudding goes into the oven, there is ample time to finish cooking fresh vegetables, dish up potatoes, make the reduced wine pan sauce and slice the beef. It's a nice touch to seat and serve the family or guests and then pass the Yorkshire pudding hot and fresh out of the oven.
See also: Traditional Roast Beef recipe
Serves: 8

Ingredients
1¾ cups flour
3/4 teaspoon salt
1 1/2 cups milk
3 eggs, room temperature
3/4 cup beef fat rendered from roast

Preparation
1. Preheat oven to 500°F.

2. In a mixing bowl combine flour, salt, and milk. Blend with a wire whisk.

3. Add eggs and blend well. Scrape sides and bottom of bowl with a rubber spatula and continue to whip until batter is smooth.

4. Let batter sit at room temperature for an hour.

5. Preheat large muffin tins or 3/4 cup glass baking cups in oven with 1½ tablespoon of beef fat in each tin or cup.

6. Pour approximately 1/3 cup of batter into each cup.

7. Bake in 500°F oven for approxiimately 20 to 25 minutes until puddings rise well above level of tins or cups and begin to brown on tops and edges.
Reduce heat to 350°F and bake an additional 10 to 15 minutes.

8. Serve immediately.
Recipe & photo courtesy of The Food Channel® ( www.foodchannel.com )