Traditional Roast Beef Dinner with Yorkshire Pudding & Port Merlot Pan Sauce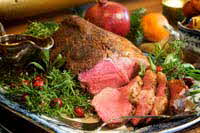 This recipe featuring the top sirloin roast provides all the spirit of an elegant English Standing Prime Rib Roast dinner at a fraction of the cost.
Why Try? The top sirloin is a wonderful cut for roasting; the drippings will provide the essentials for a decadent reduced wine sauce and traditional Yorkshire pudding.
Foodie Byte: When selecting a top sirloin, select Choice or a higher grade designation like Certified Angus, Top Choice or even Prime. Aged or dry aged meat will positively affect the quality of the meal.
See also: Traditional Yorkshire Pudding recipe
Prep Time: 40 minutes
Cook Time: 2 hours
Serves: 8

Ingredients
1 boneless beef top sirloin roast (6 -7 pounds)
kosher salt and as needed
freshly ground black pepper as needed
1 ounce olive oil
6 to 8 garlic cloves
2 cups Merlot, dry
2 cups beef broth, low sodium
2/3 cup Port wine
2 tablespoons butter

Preparation
1. Preheat oven to 250°F.

2. Trim meat of any heavy fat cover in excess of 3/8 inch and any visible cartilage on bottom of roast. Some fat is essential for self basting the roast as it cooks.

3. Season all sides of roast with salt and pepper.

4. On the stove top, heat heavy iron Dutch oven or deep skillet, add olive oil and garlic.

5. Brown all sides of beef roast approximately 4 to 5 minutes on each side.

6. Place roast in pot in oven. When internal temperature reaches 110°F (approximately 60 to 80 minutes), turn oven up to 500°F and continue until internal temperature reaches 130°F. This will provide a medium rare product with a nicely browned exterior and take up to 15 additional minutes .

7. Remove roast from oven, transfer to a tray and allow to rest for approximately 20 minutes. While roast rests, a pan sauce and Yorkshire pudding can be prepared.

8. Pour off and spoon all excess fat from the pan. Reserve hot for Yorkshire pudding.

9. Heat pan with remaining juices on medium-high heat, add merlot and reduce by half. Add stock and port. Scrape all browned fond from the bottom and sides of the pan. Reduce to about one cup. Strain and remove garlic. Add butter and serve.
Recipe & photo courtesy of The Food Channel ( www.foodchannel.com )