'FOILED AGAIN' BLADE ROAST
Klutz-proof Cooking Sample Recipe - Copyright JED New Media 2003
Klutz-proof cooking is an entertainingly written ensemble of recipes for the domestically challenged. Prepare easy, edible "real meals: without causing personal injury or property damage.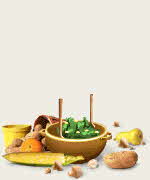 Introducing the Oven
"Foiled Again!" Blade Roast
No need to be "en garde" with this Sunday come-to-supper dish. Although the oven may have been a scary place for Hansel and Gretel, it need not be for you. This economical roast recipe is so simple; it is almost too good to be true. Slow cooking is the secret to this tender, tasty meat, so make sure that you have a leisurely day to attempt it.
Tools: large roasting or baking pan, aluminum foil, and oven mitts.
Ingredients:
2-3 lbs. (1-1.5 kg) of blade roast (you can also use chuck roast or blade steaks for this recipe)
1 package dehydrated onion soup mix
2-3 bay leaves
A large aluminum pouch or plenty of aluminum foil
Note: (If you cannot find a ready-made aluminum foil pouch at your supermarket, make one yourself. Roll out two long pieces of foil wrap, place one piece lengthwise in the bottom of the roasting or baking pan. Place the other piece of foil sideways across the middle with plenty of overlap. Once the ingredients are inside, roll up the top very tightly to seal airtight, leaving some room for steam to circulate. It is important that the foil pouch is airtight so that the meat does not dry out.)

Directions
Step 1. Preheat the oven to 300 degrees F (150 degrees C) Place the roast inside the pouch before sealing it or if you are using foil to make your own, place the meat on top of the unclosed foil in the pan.

Step 2. Sprinkle the entire package of onion soup mix over the top of the roast, distributing it evenly with a spoon. Place bay leaves on top. Seal the foil AIRTIGHT by rolling it together with your fingers. Make sure that you leave an air pocket inside where steam can circulate or your meal will burn.

Step 3. Put the roast in the oven and let it cook for three hours. Do not open, do not peek, just leave it! If the pouch was properly sealed, the meat is guaranteed to be tasty and melt in your mouth when it is done. It is that easy! Discard the bay leaves before serving. Serve with mashed potatoes and freshly cooked carrots and peas for an easy, balanced home-cooked meal.
Klutz-proof Cooking
Klutz-proof cooking is an electronic tutorial called a JEDlet, developed by JED New Media Inc. Klutz-proof cooking recipes and contents are property of JED New Media Inc.