PEANUT CRUSTED BEEF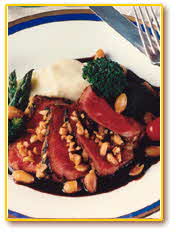 Makes 6 servings

Ingredients
• 4 pounds top loin beef, trimmed and cut lengthwise into 2 long pieces
• 1/2 cup dry mustard
• 1/4 cup warm water
• 1 cup crunchy peanut butter
• 2 cups chopped Spanish peanuts
• salt and pepper to taste

Directions
Sear beef on grill.

Mix mustard, water and peanut butter; spread on all sides of beef.

Sprinkle with chopped peanuts, pressing nuts into surface of beef, if necessary.

Sprinkle with salt and pepper.

Place on a roasting pan in a 450 degree F oven and roast until desired doneness is indicated on meat thermometer.

Let rest 15 minutes before slicing to serve.

Courtesy of the Peanut Advisory Board www.peanutbutterlovers.com