See also: Mango (and Green Pepper Mangos)
MANGO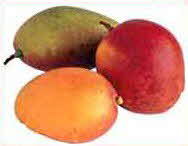 In old cookbooks, 'mango' was the term sometimes used for cantaloupe.

Never buy completely green mangoes, as they may never ripen. Under ripe mangoes can have an unpleasant chemical taste if eaten raw. When buying, no fragrant aroma most likely means no flavor.

Mangos should be stored at 35 degrees F. after being ripened at room temperature.

Never burn mango leaves or branches, the toxic fumes can cause serious irritation to the eyes and lungs.

Be very careful of the stem end of mangos if any part of the branch or leaf is attached, as the sap can cause allergic reactions.

Include mango in your favorite fruit shake or smoothie for a tropical taste.

Use mangos to top bagels with fat free cream cheese.

Keep cut up mango chunks in the refrigerator to add to any fruit salad or yogurt.
There is no trick to getting the flesh off a mango easily - it can be very messy. Peel and then cut the flesh off around the pit as best you can. The pit is flat, so try to cut the flesh off along the flat side of the pit. Then just nibble the rest off the pit. Its messy, but absolutely delicious.
OR - Get a MANGO SPLITTER >>>


SELECTION - Choose firm plump mangos that give slightly when pressure is applied. Avoid those with bruised or dry and shriveled skin. The ripeness of mangos can be determined by either smelling or squeezing. A ripe mango will have a full, fruity aroma emitting from the stem end. Mangos can be considered ready to eat when slightly soft to the touch and yield to gentle pressure. The best-flavored fruit have a yellow tinge when ripe; however, color may be red, yellow, orange, green, or any combination.

STORAGE - Store mangos at room temperature and out of the sun, until ripened. The ideal storage temperature for mangos is 55 degrees F. When stored properly a mango should have a shelf life of 1 to 2 weeks. While the mango will not ripen in the refrigerator, it can be kept chilled there once ripe. Store cut mangos in a plastic bag for no more than 3 days.
CDC.gov - 5 a Day


Here is a detailed description of how to cut a mango before peeling it - sent in by Sarah Jane Brian
1. Hold the unpeeled mango upright with the stem end balanced on your cutting board. Twist the mango so that one of the short, rounded sides points toward you.

2. Place the blade of a long, sharp knife at the top center of the mango. Move it about 3/4 of an inch to the right (left if you are left handed) and slice straight down. The idea is to cut alongside the flat part of the mango seed--if your knife hits the seed, move right a bit more.

3. Turn the mango 180 degrees and repeat step 2, cutting off the flesh from the other flat side.

4. Pick up one of the mango halves. With a small knife, carefully score the flesh from top to bottom with cuts about 3/4 of an inch apart. You want to cut through the flesh but leave the skin intact. Then score the flesh with perpendicular cuts, so that it looks like a mango checkerboard.

5. Press on the center of the mango skin while holding the edges to pop the scored mango half inside out. The ready-cut cubes of mango can be nibbled off the skin or easily cut away with a knife.

6. There will still be some fruit left on the sides of the seed. Peel away
the skin and lay the seed flat on your cutting board. Press the seed down to keep it from slipping and slice away from you to cut off the flesh, or just eat that part of the mango right off the seed