See also: Article on Manioc
Manioc, Cassava, Yucca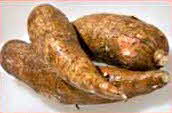 The white interior of yucca is firmer than potatoes and has high starch content. Fresh yucca has thick, dark brown skin that resembles a tree's bark. Fresh yucca is available year round. Look for firm blemish free tubers. Store whole yucca as you would potatoes, in a cool, dark, dry place for up to one week. Peeled yucca covered with water and refrigerated or wrapped tightly and frozen for several months.

Yucca can easily be substituted for potatoes in soups and stews and it contains a high amount of vitamin C and carbohydrates. It is also a good source of dietary fiber and contains approximately 120 calories per 1 cup serving.

Add yucca with potatoes and other vegetables into beef, chicken, or vegetable-based soups and stews.