POTATO & CRABMEAT TAMALE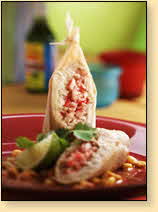 Yield: 12 appetizer portions
Heart of Idaho Potato & Crabmeat Tamale
INGREDIENTS:
Dough:
• 12 Corn Husks (soaked in cold water for about 1 hour)
• 2 cups chicken Stock
• 1 cup vegetable oil
• 1 tsp baking powder
• 3 Tbsp salt
• 3 cups finely shredded potatoes (use fresh Idaho russets)
• 5 cups Maseca flour (available in most ethnics markets)

Filling:
• 1½ lbs crabmeat or substitute chicken breasts
• 2/3 cup tomato sauce
• 1/3 cup chipotle sauce (available in most ethnics markets)
• 1/2 cup crushed peanuts

Sauce:
• 3 tsp olive oil
• 1 cup whole kernel corn
• 1/4 cup Tamarind Paste (available in most ethnics markets)
• 2/3 cup guava juice (available in most ethnics markets)

DIRECTIONS:
In a 2 qt electric mixer, mix the chicken stock, vegetable oil, Idaho potatoes, baking powder, salt and maseca flour using the paddle until smooth, (about 6 minutes at medium speed)

Boil the crabmeat in 1 qt of water until tender, then cool and shred, mix the shredded crabmeat with the tomato and chilpotle sauce and peanuts.

Spread about 3 ounces of dough on each corn husk and place 3 tablespoons of the crabmeat filling in the middle of each tamale.

Secure each tamale by closing and folding each end of the corn husk and inside of a 4 qt steamer, steam for 30 minutes.

For the sauce: In a 5" skillet sautee the corn kernels in the olive oil for about 3 minutes, whisk in the tamarind paste and the guava juice, cook for another 2 minutes and keep warm for plating.

Serve each tamale cut in half and spoon about 2 Tbsps of sauce on the side.

Idaho Potato Commission: www.idahopotato.com
Recipe courtesy of Amados Pastries – Muskegon, MI -Chef Ana Karina Amado