CRAB CAKES WITH HORSERADISH CHEDDAR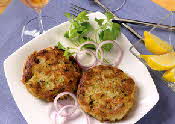 Makes 6 servings
Ingredients
• 1 pound lump crabmeat, picked through, shells removed
• 2 tablespoons finely chopped celery
• 2 tablespoons finely chopped red or yellow onion
• 1 tablespoon finely chopped parsley
• 1 tablespoon Dijon mustard
• 1 tablespoon lemon juice
• 2 teaspoons Worcestershire sauce
• 1-2 teaspoons Old Bay seasoning
• 1/2 cup grated Cabot Horseradish Cheddar
• 1/2 cup mayonnaise
• 1/2 cup panko breadcrumbs*
• 1 large egg, lightly beaten
• 2-3 tablespoons canola oil

Directions
1. In medium bowl, combine crabmeat, celery, onion, parsley, mustard, lemon juice, Worcestershire, and Old Bay seasoning. Add cheddar, mayonnaise, breadcrumbs and egg and mix together gently but thoroughly.

2. Shape into six equal patties. Cover with plastic wrap and refrigerate for at least one hour or until ready to cook.

3. Place large skillet over medium heat. Add oil and heat until shimmering, about 2 minutes. Add crab cakes and cook until golden on both sides and cooked through to center, 3 to 4 minutes per side.

*Panko are coarse Japanese-style breadcrumbs that produce an especially crispy result. Find them at gourmet supermarkets, specialty food stores, or Asian markets. Plain dried breadcrumbs can be substituted.

Nutrition Analysis
Calories 206 , Total Fat 12g , Saturated Fat 3g , Sodium 657mg , Carbohydrates 8g , Dietary Fiber <1g , Protein 16g , Calcium 110mg
Recipe & photo courtesy of Cabot Creamery Cooperative
www.cabotcheese.com