'LITTLE HANDS' CHRISTMAS COOKIES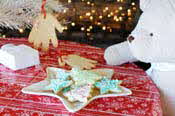 These sugar cookies, shaped like your little ones' hands, make precious Christmas gifts and can even be hung on the tree as ornaments.
Why try? They're so simple to make, even with children as young as 2 or 3—with a bit of help from Mom or Dad.
Foodie Byte: Make it easy on everyone: Use prepared dough sheets and store-bought icings. This should be a totally fun experience.
Prep Time: 5 minutes
Cook Time: 10 minutes

INGREDIENTS
• Prepared cookie dough sheets
• Prepared frostings
• Sprinkles
• Food coloring (if desired)

DIRECTIONS
1. Remove the dough sheet from the package and place on cutting board or clean flat surface.

2. Position child's hand on the dough and trace around hand and fingers with a table knife.

3. Gently remove the cut-out cookie "hand" being careful not to tear it. If desired, you may also wish to poke a small hole near the base of the palm for hanging as an ornament on the tree with a thin ribbon. Cut the hole before baking. (You may also want to have fun creating other shapes, using cookie cutters.)

4. Place cookie hands on a cookie sheet at least an inch apart and bake according to package directions.

5. Allow to cool on a baking rack. If desired, ice the cookies using a prepared frosting, and add sprinkles.

6. Makes 10 to 16 cookie cutouts, or 4 hands plus 4 cookie cutouts.

Posted by Editor at The Food Channel® From The Kitchens of e Food Channel