CRANBERRY CHEESE BARS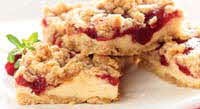 Prep Time: 20 minutes
Cook Time: 15+40 minutes
Servings: Makes 2 to 3 dozen bars
Serving Size: 1/24 of a recipe

Ingredients
• 2 cups all-purpose flour
• 1½ cups oats
• 3/4 cup plus 1 tablespoon firmly packed brown sugar
• 3/4 cup plus 1 tablespoon firmly packed brown sugar
• 1 cup (2 sticks) butter or margarine, softened
• 1 (8-ounce) package cream cheese, softened
• 1 (14-ounce) can EAGLE BRAND Sweetened Condensed Milk (NOT evaporated milk)
• 1/4 cup lemon juice
• 2 tablespoons cornstarch
• 1 (16-ounce) can whole berry cranberry sauce

Instructions
1. Preheat oven to 350°F. In large bowl, combine flour, oats, 3/4 cup brown sugar and butter; mix until crumbly.

2. Reserving 1½ cups crumb mixture, press remainder firmly on bottom of greased 13x9-inch baking pan. Bake 15 minutes.

3. In small bowl, beat cream cheese until fluffy. Gradually beat in EAGLE BRAND until smooth; stir in lemon juice. Spread evenly over prepared crust.

4. In small bowl, combine remaining 1 tablespoon brown sugar and cornstarch; stir in cranberry sauce. Spoon evenly over cream cheese layer. Top with reserved crumb mixture. Bake 40 minutes or until golden. Cool. Chill. Cut into bars. Store leftovers covered in refrigerator.

Recipe Courtesy of Eagle Brand Sweetened Condensed Milk