See also: Turkey Statistics; Thanksgiving Trivia;

Turkey in the UK; Turducken; Article on Stuffings;

Turkey Quotes; Thanksgiving Quotes; Turkey Recipes
TURKEY TRIVIA and FACTS
TURKEY PLACES:
Turkey Creek, Louisiana (2013 population 435)
Turkey, Texas (2013 population 410)
Turkey, North Carolina (2013 population 291)
Turkey Creek, Arizona (2012 population 294)
Upper Turkeyfoot and Lower Turkeyfoot, Pennsylvania.
There are 18 people in the U.S. listed on whitepages.com with the last name 'Turkey' (Mark Morton, 'Gastronomica', Fall 2010)
Most turkeys are raised on a vegetarian diet and without hormones and antibiotics.

The world record turkey was a tom that weighed in at 86 pounds.

All turkeys are both hormone and steroid free. No hormones have been approved for use in turkeys. The larger size of today's turkeys is due to genetic improvement, better feed and modern management practices.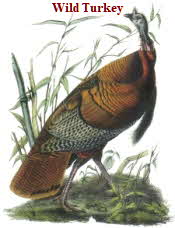 Many people report drowsiness after eating Thanksgiving dinner. While turkey often receives the blame, studies suggest that carbohydrate-rich meals may cause sleepiness by increasing the number of tryptophans in the brain. It is the unusually large, multi-coursed, carbohydrate-rich meal most people eat on Thanksgiving that is more likely the cause of the drowsiness. So just eat the turkey and the vegetables and you may not feel drowsy. What, no stuffing, potatoes, rolls, or pie?

The costume that "Big Bird" wore on "Sesame Street" is rumored to be made of turkey feathers.

June is National Turkey Lovers' Month.

Turkey's scientific name is Meleagris gallopava from Latin
gallus, meaning cock, and pavo, meaning chickenlike.
Meleagris is the Roman name for guineafowl, suggestive of the early confusion of the turkey with guineafowl.

The most common domesticated turkey, the Broadbreasted White, is so heavy and large-breasted that it can't fly, run or mate naturally. They must be artificially inseminated.

Long before Europeans came to America, the Aztecs had domesticated turkeys. They used them for food, for religious sacrifices and the feathers for decoration.

President Andrew Jackson ranked turkey hash #1 among his favorite foods.

Frozen, fully stuffed turkeys, ready to cook, were introduced in 1955.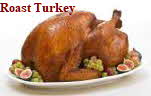 Things you always wanted to know about turkeys but were afraid to ask:
• Domesticated turkey hens are artificially inseminated. They lay 80 - 100 eggs during a 25 week laying cycle, and each egg takes 28 days to hatch.
• Turkey eggs are tan with brown specks.
• Domesticated Turkeys have been bred to have white feathers so there are no unsightly pigment spots under the skin when they are plucked.
• Turkeys are closely related to grouse, quail and pheasants.
• The average turkey has 3,500 feathers at maturity.
• Toms are male turkeys. Hens are female turkeys.
• Only tom turkeys gobble, hen turkeys make a clicking noise.
• The Caruncle is the red/pink fleshy growth on the head and upper neck of the turkey.
• The Snood is the long, red fleshy growth from the base of the beak that hangs down over the neck.
• The Wattle is the bright red appendage at the neck.
• The beard is a black lock of hair found on the chest of the male turkey.
• Domesticated turkeys cannot fly.
• Wild turkeys can fly for short distances for up to 55 miles per hour, and run at 20 miles per hour.
• The pet food industry uses about 13% of U.S. turkey production.
• A baby turkey is called a poult and is tan and brown.
• A large group of turkeys is called a flock.
• On average, it takes 75-80 pounds of feed to raise a 30-pound tom turkey.
• A turkey hen usually takes 14 weeks to reach maturity and weighs 15.3 pounds when processed. This compares to the tom, which takes 18 weeks to reach a market weight of 33 pounds.
• Turkey Hens are processed and usually sold as whole birds, while Toms are further processed into products such as cutlets, tenderloins, turkey sausage, turkey franks and turkey deli meats.
• The typical 15 pound turkey is 70% white meat and 30% dark meat. White meat has fewer calories and less fat than dark meat.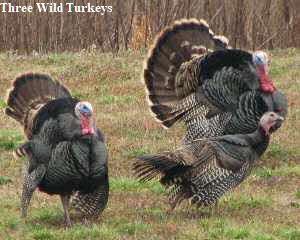 When Neil Armstrong and Edwin 'Buzz' Aldrin sat down to eat their first meal on the moon, their foil food packets contained roasted turkey and all of the trimmings.
The Wild Turkey (Meleagris gallopavo) was designated as the Official Wild Game Bird of South Carolina in 1976.

The state game bird of Alabama is the Wild Turkey. Alabama has one of the largest per acre populations of wild turkeys of any state.

The Wild Turkey is the official state Game Bird of Oklahoma.

The Wild Turkey was designated the state game bird of Massachusetts on December 23, 1991.
Since 1947, the National Turkey Federation (NTF) has presented the President of the United States with a live turkey and two dressed turkeys in celebration of Thanksgiving. The annual presentation of the National Thanksgiving Turkey to the President has become a traditional holiday ritual in the nation's capital, signaling the unofficial beginning of the holiday season and providing the President an opportunity to reflect publicly on the meaning of the Thanksgiving season. After the ceremony, the live bird retires to a historical farm to live out the rest of its years.

It has been estimated that 88% of Americans eat turkey at Thanksgiving.

Then there's the time a lady was picking through the frozen turkeys at the grocery store, but couldn't find one big enough for her family. She asked a stock by, "Do these turkeys get any bigger?" The stock boy replied, "No ma'am, they're dead."
The top five most popular ways to serve leftover Thanksgiving turkey are: Sandwich, Soup or Stew, Casserole, Stir-fry, and Salad.

FREE Magazines
and other Publications
An extensive selection of free magazines and other publications
FOOD TRIVIA and FOOD FACTS
Please feel free to link to any pages of FoodReference.com from your website.
For permission to use any of this content please E-mail: [email protected]
All contents are copyright © 1990 - 2023 James T. Ehler and www.FoodReference.com unless otherwise noted.
All rights reserved. You may copy and use portions of this website for non-commercial, personal use only.
Any other use of these materials without prior written authorization is not very nice and violates the copyright.
Please take the time to request permission.


CULINARY SCHOOLS
& COOKING CLASSES
From Amateur & Basic Cooking Classes to Professional Chef Training & Degrees
FoodReference.com (since 1999)
FOOD TRIVIA and FOOD FACTS SECTION