See also: Article about Turnips - Turnip Recipes
TURNIP TRIVIA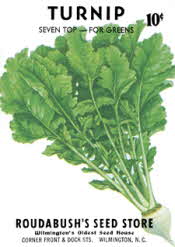 The Turnip is a hardy plant that has been cultivated for over 4,000 years and is believed to have originated somewhere in central Asia. Turnips are widely cultivated for human food and livestock feed, but they have often been considered as only fit food for the poor an starving.


Supposedly Henry VIII liked his turnips roasted and the tender young leaves served in a salad. Goethe stated that 'they are best mixed with chestnuts.'


Turnips were cultivated in Virginia as early as 1609.


Turnips are popular in Italy, where they are known as 'broccoletti di rape.'

Turnips grow best in cool climates. Spring varieties do not keep, but winter varieties will keep for up to 2 months in a cool place. Their excellent keeping properties made them a wintertime staple. They are low in calories and a good source of vitamins A and C, potassium and calcium.


There is 1 person in the U.S. listed on whitepages.com with the last name 'Turnip'
(Mark Morton, 'Gastronomica', Fall 2010)