Maple Syrup & Sugar Maple Trivia
Maple was designated as the Official Flavor of Vermont in 1994.

The Sugar Maple (Acer saccharum) is the state tree of New York, Vermont, West Virginia and Wisconsin.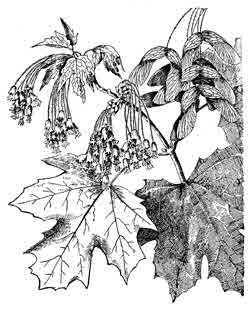 More than 75% of the world's supply of maple syrup comes from Canada.

It takes approximately 40 gallons of sap to make 1 gallon of maple syrup.

All of the world's maple syrup is produced in North America. Quebec is the leading producer, followed by Vermont, New York, and Ontario.

Maple syrup has about 50 calories per tablespoon.

There are four grades of maple syrup:
Grade A, light amber in color, with a mild, subtle flavor.

Grade A medium is a medium amber, with a mellow flavor, and is the most popular.

Grade A dark (formerly Grade B) is dark amber with a hearty flavor.

Grade B (formerly Grade C) is very dark (the least expensive) with a robust molasses-like flavor, and is used mostly by commercial manufacturers with other ingredients for 'maple flavored' syrups.

The process used to make maple syrup is essentially the same one that Native Americans first used hundreds of years ago.

For four to six weeks in the winter or early spring, farmers collect the sweet-water sap of dormant sugar maple or black maple trees. The sap is extracted through tap holes, which are carefully drilled into the trees and fitted with spouts and buckets or the more modern and common method, plastic tubing. The sweet-water sap is then boiled in pans to evaporate the liquid. The sap only yields one-thirtieth to one-fiftieth the amount of syrup as the original quantity of sap.
Library of Congress Local Legacies Project