See Also: Articles about Leeks
LEEKS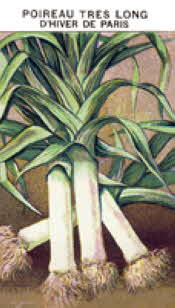 Leeks, Allium ampeloprasum (porrum group), are a delicately flavored member of the onion family native to the Mediterranean region. Leeks were cultivated by the ancient Egyptians, and Emperor Nero ate them regularly.

After the Roman legions brought the leek to Wales, it soon became the national emblem. To celebrate a famous battle victory in which the Welsh soldiers wore leeks in their hats, March 1 is celebrated as St. David's Day, and Welshmen wear leeks in their hats.

FOOD TRIVIA and FOOD FACTS
Please feel free to link to any pages of FoodReference.com from your website.
For permission to use any of this content please E-mail: [email protected]
All contents are copyright © 1990 - 2023 James T. Ehler and www.FoodReference.com unless otherwise noted.
All rights reserved. You may copy and use portions of this website for non-commercial, personal use only.
Any other use of these materials without prior written authorization is not very nice and violates the copyright.
Please take the time to request permission.


FoodReference.com (since 1999)
FOOD TRIVIA and FOOD FACTS SECTION