CROWN ROAST OF PORK WITH WALNUT-RHUBARB STUFFING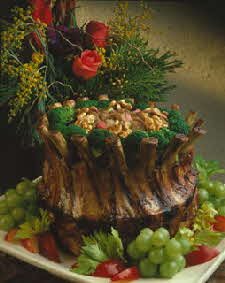 Serves 16
Ingredients
• 8-9 pound crown roast of pork
• Salt and ground black pepper, to taste

• 1 pound ground pork, cooked and crumbled
• 5 cups dry bread cubes
• 1 14½-ounce can chicken broth
• 1/2 cup chopped onion
• 1/2 cup chopped celery
• 1 cup walnut halves, toasted
• 1 teaspoon salt
• 1/4 teaspoon cinnamon
• 1/4 teaspoon allspice
• 1/8 teaspoon ground black pepper
• 2 cups sliced fresh or frozen rhubarb, thawed
• 1/2 cup sugar

Cooking Directions
Heat oven to 350 degrees F.

Generously season pork with salt and pepper; place in shallow roasting pan; roast for about 2-2½ hours, until internal temperature, measured with a meat thermometer, is 150-155 degrees F. (about 18-20 minutes per pound)

Remove roast from oven. Let stand 15 minutes before slicing to serve with stuffing.

Meanwhile, in large bowl thoroughly combine ground pork, bread cubes, broth, onion, celery, walnuts and seasonings; mix well. In medium saucepan, combine rhubarb and sugar; bring to a boil.

Pour over stuffing mixture; mix lightly.

Spoon into buttered 2-quart casserole.

Cover, bake at 350 degrees F. for 1½ hours.

Serving Suggestions
This elegant centerpiece entrée is actually very easy to prepare. Have the butcher cut and tie the crown roast for you. Simply roast, and bake the stuffing alongside in a separate casserole. Serve with buttered green beans amandine, a fruit salad and warm dinner rolls.

Nutrition Facts
Calories 590 calories; Protein 60 grams; Fat 22 grams; Sodium 670 milligrams; Cholesterol 145 milligrams; Saturated Fat 7 grams; Carbohydrates 33 grams

Recipe and photo courtesy of National Pork Board.
For more information about The Other White Meat, visit TheOtherWhiteMeat.com