CREAMY PANCETTA RICE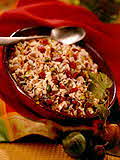 "Rice to the Rescue!" Recipe Contest Grand Prize Winner - David Brown
Yield: Makes 8 servings.

Ingredients
• 1/2 pound trimmed pancetta, diced*
• 1 large red onion, chopped
• 1¾ cups half-and-half
• 3 cups cooked rice
• 1½ cups sweetened, dried cranberries
• 1 cup chopped pistachios
• 1/2 teaspoon salt
• 1/4 teaspoon ground black pepper

Directions
Brown pancetta and onion in large skillet over medium heat, cook until onion begins to brown, about 8 minutes.

Add half-and-half; bring to a boil. Remove from heat.

Add rice, cranberries, pistachios, salt and pepper.

Stir until well blended.

* Lean bacon may be substituted for pancetta.

Nutrition Facts
Calories 355
Total Fat 15g
Cholesterol 34mg
Sodium 823mg
Total Carbohydrate 44g
Dietary Fiber 3g
Protein 13g

USA Rice Federation (www.usarice.com)