CRANBERRY-GLAZED PORK ROAST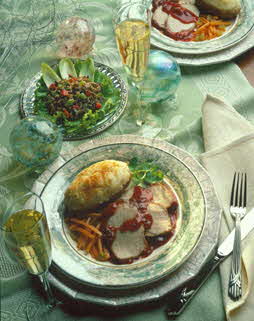 Serves 8

Ingredients
• 2-4 pound boneless pork roast
• 2 teaspoons cornstarch
• 1/8 teaspoon cinnamon
• 1/8 teaspoon salt
• 4 tablespoons orange juice
• 1 can (16 oz.) whole cranberry sauce

Cooking Directions
Combine cornstarch, cinnamon, salt in small saucepan. Stir in orange juice and cranberry sauce.
Cook and stir over medium heat until thickened.
Set aside.

Place pork in shallow pan and spoon over about 1/2 cup cranberry sauce.

Roast in a 350 degree F. oven for 45 minutes to an hour, basting occasionally with additional sauce, until meat thermometer reads 155-160 degrees F.

Let rest 10 minutes before carving.

Serve with additional cranberry sauce.

Serving Suggestions
Present this festive roast to your holiday company. Serve with twice baked potates, buttered carrots and your favorite dessert.

Nutrition Facts
Calories 360 calories; Protein37 grams; Fat 13 grams; Sodium 115 milligrams; Cholesterol 105 milligrams; Saturated Fat 4 grams; Carbohydrates 23 grams; Fiber 0 grams

Recipe and photo courtesy of National Pork Board.
For more information about The Other White Meat, visit TheOtherWhiteMeat.com