COUNTRY PORK SKILLET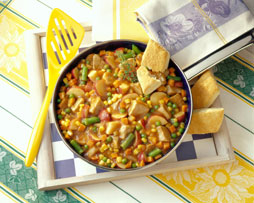 Serves 4.

Ingredients
• 4 boneless pork chops, diced
• 1 12-oz jar pork gravy
• 2 tablespoons ketchup
• 8 small red potatoes, diced
• 2 cups frozen mixed vegetables

Cooking Directions
In large skillet, brown pork; stir in gravy, ketchup and potatoes; cover and simmer for 10 minutes.

Stir in vegetables; cook for 10-15 minutes longer, until vegetables are tender.

Serving Suggestions
A simple one-dish meal that is completed with a salad and hot biscuits. Be sure that the potatoes are diced uniformly to ensure cooking evenly. For a change try using barbecue sauce or enchilada sauce to give the dish a bit of a kick.

Nutrition Facts
Calories 430 calories; Protein 33 grams; Fat 12 grams; Sodium 690 milligrams; Cholesterol 70 milligrams; Saturated Fat 4 grams; Carbohydrates 52 grams

Recipe and photo courtesy of National Pork Board.
For more information about The Other White Meat, visit TheOtherWhiteMeat.com