APRICOT GLAZED PORK KABOBS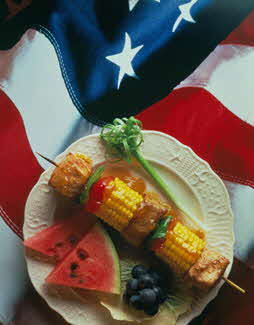 Makes 4-6
Ingredients
• 1 pound boneless pork loin, cut into one-inch cubes
• 1 10-ounce jar apricot preserves
• 4 tablespoons orange liqueur or orange juice
• 2 tablespoons butter

Cooking Directions
Stir together preserves, liqueur and butter, simmer in a small saucepan until butter is melted. (OR combine ingredients in a 2-cup glass measure; microwave on High 1 minute).

Place pork cubes in heavy plastic bag, pour 3/4 cup apricot mixture over to coat.

Marinate at least 30 minutes.

Thread pork onto 4-6 skewers, grill over hot coals 10-12 minutes, turning occasionally and basting with marinade.

Heat remaining apricot sauce to boiling and serve alongside kabobs, if desired.

Serving Suggestions
This is a fun recipe for summer gatherings. Serve the kabobs with corn on the cob, your favorite baked beans, and potato salad.

Nutrition Facts
Calories 326 calories; Protein 18 grams; Fat 9 grams; Sodium 84 milligrams; Cholesterol 58 milligrams; Saturated Fat 4 grams; Carbohydrates 40 grams; Fiber 0 grams

Recipe and photo courtesy of National Pork Board.
For more information about The Other White Meat, visit TheOtherWhiteMeat.com