CHOCOLATE RUM PUDDING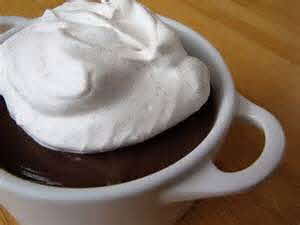 INGREDIENTS:
• 1 large egg yolk
• 1 tablespoon plus 1/2 teaspoon sugar
• 1½ teaspoons all-purpose flour
• 1/3 cup whole milk
• 6 tablespoons chilled heavy cream
• 1½ oz fine-quality bittersweet chocolate
• 1 teaspoon dark rum
• 1/4 teaspoon instant-espresso powder

DIRECTIONS:
1. Vigorously whisk together yolk, 1 tablespoon sugar, flour, and a pinch of salt until well blended.

2. Heat milk and 3 tablespoons cream in a heavy saucepan until hot but not boiling. Add one third of hot milk to yolk mixture in a slow stream, whisking constantly. Add remaining milk, whisking, then transfer to saucepan. Bring to a simmer, whisking constantly, then continue to simmer, still whisking constantly, until thickened, about 1 minute.

3. Remove from heat and add chocolate, rum, and espresso powder. Let stand until chocolate is melted, about 30 seconds, then whisk until smooth.

4. Transfer to a glass and chill, covered, at least 30 minutes to cool quickly to room temperature.Just before serving, vigorously whisk remaining 3 tablespoons cream with remaining 1/2 teaspoon sugar in a small bowl until it holds soft peaks.Top pudding with whipped cream.

Recipe and photo courtesy of Caribbean Shopping Channel