CARROTS WITH CHARACTER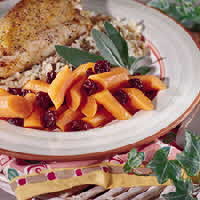 Makes 6 (1/2 cup) portions.

1 pound carrots, peeled and sliced
1/2 cup dried tart cherries
3 tablespoons maple syrup
2 tablespoons margarine
1/2 teaspoon ground nutmeg
1/4 teaspoon ground ginger

Cook carrots in water in a covered saucepan 8 to 10 minutes, or until tender.

Drain well.

Add dried cherries, maple syrup, butter, nutmeg and ginger to cooked carrots in a 2-quart saucepan.

Cook, stirring occasionally, over medium heat, until mixture is hot and bubbly.

Note: A (1-lb.) package of whole baby carrots can be substituted for the sliced carrots.
Nutrition Info:
Nutrition Facts per 1/2-cup serving: 130 cal., 4 g total fat (1 g sat. fat), 22 g carbo., 0 mg chol., 1 g pro., 3 g fiber, 97 mg sodium. Daily RDA values: 270% vit. A, 8% vit. C, 4% calcium, 4% iron.
Recipe courtesy of the Cherry Marketing Institute - http://www.cherrymkt.org/