APPLE CRANBERRY STUFFING
A delicious holiday inspired recipe from Manischewitz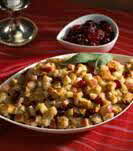 Apple Cranberry Stuffing Recipe
Yield: 6 servings

Ingredients
• 2 tablespoons vegetable oil
• 1/2 cup onions, diced
• 1/2 cup celery, diced
• 1½ cups apples, diced
• 1 cup apple juice
• 14 oz Manischewitz® Chicken or Vegetable Broth (1 can)
• 1/2 cup cranberries, dried
• 5 cups seasoned stuffing mix

Instructions
In a large skillet over medium high heat sauté onions and celery in oil until tender.

Add apples and sauté briefly for 1 to 2 minutes.

Add apple juice and simmer 5 minutes to concentrate flavor.

Add Manischewitz® Chicken or Vegetable Broth and return to a boil; remove from heat.

In a large mixing bowl combine apple mixture and cranberries with stuffing; mix well until completely moistened.

Stuff both neck and body cavities of bird (do not over stuff).

Place bird in a 325° oven and cook until internal temperature of bird is 185° and the internal temperature of stuffing is 160°.

Allow bird to rest 15 minutes before carving.

The Manischewitz brand was founded in a small bakery built to make Passover matzo in 1888 by Rabbi Dov Behr Manischewitz in Cincinnati, Ohio. In 1932, Rabbi Manischewitz opened a plant in Jersey City, NJ, replacing the operation in Cincinnati. This move paved the way for the introduction of new products like Tam Tam® Crackers, Chicken Soup, Noodles and Gefilte Fish.