See Also: Clarified Butter
BUTTER
QUESTION
Chef James,
Was wondering if you could tell me if real butter needs to be kept refrigerated or can it just sit out? Like real butter but it is way too hard to use when taking from refrigerator for immediate use. We are considering switching from margarine to real butter. Thank you, Patricia

ANSWER
Hi Patricia,

The main problem is not really safety, but that it will may turn rancid and not taste very good.

Heat, light and air cause butter (and other fats and oils) to turn rancid. Rancid fats & oils have a sour, bitter taste.

A lot depends on the temperature in your home, how long you leave the butter out, and what type of container it is in.

Using a pottery crock type container will protect it from light and air, and even heat because a pottery crock acts somewhat like a thermos - it insulates the butter from the outside heat, light and air. This works for a few days if it is not very warm inside your house.

There are also several types of butter bells that allows you too store butter in for up to a month.
You put a small amount of cold water in the bottom, the butter goes in the top bell shaped container and set in the bottom with the water. Be sure to use soft room temperature butter to fill it - trying to squeeze a hard stick of butter in the bell is difficult.

Another solution is to use whipped butter that comes in a tub. A knife scraped across the whipped butter gives easy to spread thin sheets of butter. Do not use whipped butter for cooking though, as it has more volume because air is whipped in, and your measurements will not be accurate.
Chef James, FoodReference.com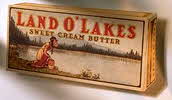 Salted Butter has up to 2½ % salt added, the amount differs from brand to brand. When using salted butter you should reduce any added salt accordingly.

Unsalted butter sometimes called sweet butter. This is frequently specified in recipes to eliminate any problems with oversalting.

Butter should be stored at 40 degrees. The butter compartment in the door of most refrigerators is usually 50 degrees or so. Keep butter in the main part of the refrigerator.

Butter melts into a liquid at about 98 degrees F and reaches the smoke point at 260 degrees F.

Butter absorbs odors very easily and quickly, so keep covered.

Butter can be frozen with no texture or quality problems. To freeze butter, mold into squares, patties or other desired shapes, and wrap tightly in aluminum foil, transparent film or freezer paper, or seal in moisture-vapor resistant containers.

Whipped Butter is regular butter into which air or nitrogen gas has been whipped to increase its volume. Because its density or weight is not the same as an equal measure of butter, it should not be used as a substitute for regular butter in most recipes. Whipped butter spreads easier and melts quicker than regular butter.

Butter Grading:
U.S. Grade AA Butter:
Delicate sweet flavor, with a fine highly pleasing aroma;
made from high-quality fresh sweet cream;
smooth, creamy texture with good spreadability;
salt completely dissolved and blended.

U.S. Grade A Butter:
pleasing flavor;
made from fresh sweet cream;
fairly smooth texture;
rates close to the top grade.

U.S. Grade B Butter:
may have slightly acid flavor;
generally made from selected sour cream;
acceptable by many consumers.