See also: Blueberry History; Blueberry Trivia
BLUEBERRY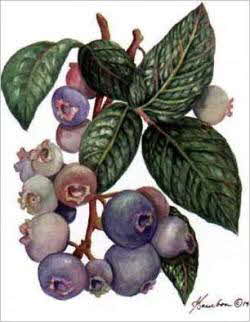 One quart of blueberries = about 1½ pounds.

Blueberry season is from May to September. Look for berries with a silvery 'bloom', this is a natural protective coating. They should be refrigerated as quickly as possible and kept dry. Do not wash until you are ready to use them. They will last for up to 2 weeks if stored properly. Blueberries are a good source of Vitamin C.

Select blueberries that are firm, dry, plump, and smooth-skinned. Berries should be deep-purple blue to blue-black; reddish berries aren't ripe but can be used in cooking.
Blueberries tend to change color during cooking. Acids, like lemon juice and vinegar, make the blue in blueberries turn red. In an alkaline environment, such as a batter with too much baking soda, the blueberries may turn greenish-blue.

To reduce the amount of color streaking, stir your blueberries (right from your freezer, if frozen) into your cake or muffin batter last.

When making pancakes and waffles, add the blueberries as soon as the batter has been poured on the griddle or waffle iron. This will make the pancakes prettier and they'll be easier to flip. If frozen blueberries are used, cooking time may have to be increased to be sure the berries are heated through.

Wild blueberries are smaller in size compared to their cultivated cousins. Blueberries have a protective light powdery coating on the skins and tend to last longer than other berry varieties. Nearly half of the cultivated blueberries grown are sold as fresh blueberries. Fresh blueberries are available for nearly eight months of the year from producers across the United States and Canada. North America is the world's leading blueberry producer, accounting for nearly 90% of world production at the present time. The North American harvest runs from mid-April through early October, with peak harvest in mid-May—August
CDC.gov - 5 a Day

Blueberries contain significant quantities of both antibacterial and antiviral compounds, and have a reputation in northern Europe of fighting infections.They may also help protect against heart disease.

Add fresh blueberries to fruit salads and compotes or use them as an ingredient in muffins and pancakes.