See also: Broccoli Recipes --- Broccoli Article
Broccoli Trivia --- Broccoli Quotes
Broccoli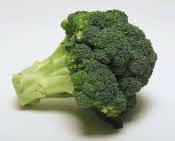 1 lb raw = 5 cups
1 lb cooked = 2 cups
Broccoli, a member of the cabbage family and a close relative of cauliflower. Broccoli is available year round, but it grows better in cool weather, so it can be in short supply in July and August.

When buying broccoli look for firm, compact clusters of small flower buds, with none opened to show the bright yellow flower. The bud clusters should be dark green or sage green, and even green with a purplish tinge. Stems should not be too thick or tough.
Avoid: Enlarged or open buds, yellowish green color or wilting. Avoid soft, slippery, watersoaked spots on the bud cluster, this is a sure sign of decay.
Storage and handling: Refrigerate in a loosely sealed plastic bag for up to 3 days. When ready to cook, separate stalks from florets. Trim ends and peel stems with paring knife, and cut into bite-sized pieces. Wash thoroughly.

Preparation: Steam in basket over water by covering and cooking 7 minutes, depending on size and age. Microwave bite-size pieces in a covered dish with small amount of water, 5-7 minutes. To avoid loss of the bright green color do not cook broccoli for longer than 7 minutes.

Nutrients: Vitamins A, C, K, folate; cancer-preventing compounds sulforaphane, isothiocyanate and indoles; fiber.
Broccoli florets contain most of the phytochemicals in broccoli. Broccoli should be kept just slightly above the freezing point from harves to eating to preserve its nutritional value. Actually, frozen broccoli likely provides more nutritional value than fresh since florets are processed right after picking.