See also: Article on Black Beans; Dried Bean Recipes
BLACK BEANS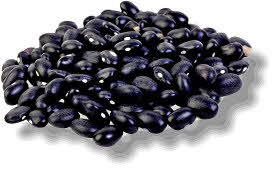 Black Beans are sweet tasting with an almost mushroom-like flavor and soft floury texture. These beans are medium sized, oval, with a matt black color. They are the most popular beans in the Costa Rica and Cuba.

Purchasing, Handling & Storage
Black beans are commonly packaged in 100 LB bags and 1 LB bags.

They should be stored below 70 degrees F., in airtight containers.

They can be stored for up to one year this way.

1 cup beans = 2 cups cooked.

1.5 to 2 LBS of black beans per gallon of water for soup.

Cleaning

Before cooking, be sure to pick through them, picking out any small pebbles, split and withered beans and any other foreign matter. (Beans from the Rockies and Pacific coast tend to have more adobe (bits of clay) and stones). It is also helpful to cover the beans with cold water, let sit for 5 minutes and remove anything that floats. Repeat to be sure all dirt and foreign matter is removed. Drain.


Soaking & Cooking

Black beans, like all dried beans, can be soaked before cooking. This hydration helps to reduce the cooking time, but it does affect nutrient content and flavor adversely. Because they are small, 2-4 hours soaking in cold water should suffice. Drain, and cook as per recipe.

If you don't have the time, boil the beans in water for 1-3 minutes, turn off heat, cover the pot and let them sit for one hour. Drain and proceed as per recipe. However, there is a problem with this quick soaking (boiling for 1-3 minutes) method. Hot water increases the solubility of the water soluble nutrients, and softens the cell membranes of the beans, further accelerating the loss of these nutrients. This should be a consideration, because of the long cooking time during which more nutrients are lost. Cold soaked and cooked at a very gentle simmer, beans retain most of their nutrients, which are considerable.

To cook, drain the soaking water and add cold water, 1 part beans to 2 or 3 parts cold water. Bring to a boil, then reduce heat to a very slow simmer, so the beans stay in their jackets. Simmer for 2 hours.