See also: Article on Bananas; Banana Trivia
BANANAS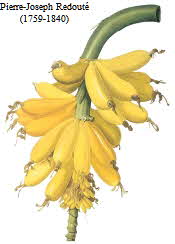 1 cup sliced Bananas = about 1 medium or 2 small Bananas.

1 cup mashed bananas = 2-3 bananas.

If bananas ripen before they are picked, they lose their taste and texture.

To ripen green tip bananas quickly, keep them at 70 degrees F, with very high humidity and no air circulation for 2 or 3 days.

Best storage for ripe bananas is 65 degrees F with 80% humidity, and very good air circulation. They should keep for a week or so like that.

Do not hold green bananas much below 59 degrees F. The skin will turn a dark brownish color and they will develop an off taste.
Unlike most other fruits, bananas develop their best eating quality after they are harvested. This allows bananas to be shipped great distances. Almost our entire supply of bananas, available year-round, is imported from Central and South America. Bananas are sensitive to cool temperatures and will be injured in temperatures below 55 °F. For this reason, they should never be kept in the refrigerator. The ideal temperature for ripening bananas is between 60 and 70 °F. Higher temperatures cause them to ripen too rapidly.

Look for: Bananas which are firm, bright in appearance, and free from bruises or other injury. The state of ripeness is indicated by skin color. Best eating quality has been reached when the solid yellow color is specked with brown. At this stage, the flesh is mellow and the flavor is fully developed. Bananas with green tips or with practically no yellow color have not developed their full flavor potential.

Avoid: Bruised fruit (indicating rapid deterioration and waste); discolored skins (a sign of decay); a dull, grayish, aged appearance (showing that the bananas have been exposed to cold and will not ripen properly).

Occasionally, the skin may be entirely brown and yet the flesh will still be in prime condition.
Unripe bananas have about 25% starch and only 1% sugar. Natural enzyme action converts this high starch content to sugar, so ripe bananas have a 20% sugar content.

The average banana contains .6 grams fat.

The very heart of the trunk of a banana 'tree' - inside the layers of bark fiber, is a white tube. It may be cooked, and has a taste and texture similar to bamboo shoots.

For a cool refreshing treat, cut a banana into chunks and put in the freezer. Take out in a couple of hours and enjoy.

Carry bananas in your lunch or use as a snack.

Use sliced bananas in cereal, yogurt, or on a peanut butter sandwich.