See also: Chicory and Endive
BELGIAN ENDIVE (French Endive)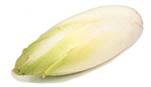 A relative of chicory and escarole, with tightly packed leaves and bullet-like shape. The leaves are creamy yellow or white in color, and slightly bitter in taste, but crisp in texture.

Genuine Belgian Endive; with creamy white, tightly closed heads, 6 inch to 8 inch long, light yellow points. 5 to 6 heads per pound, 70 leaves to the pound.

Red Endive is a cross between radicchio and Belgian endive. The leaves have the long shape of Belgian endive, but are tipped with the red color of radicchio.

Genuine Belgian Endive stays fresh for several weeks - and shrinkage is eliminated . . . no waste, no throw-aways. Use every head and every leaf.

Keep it dry. Keep it cool (38°). Keep it in the shade. Trim the stem end to peel the leaves, use the entire head in cooked preparations.