See also: Bagel Trivia and Facts
BAGELS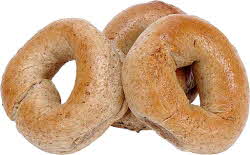 To revive several-day-old bagels, microwave very briefly (15 seconds), or moisten with water and bake for 10 minutes in a 350° oven or simply toast them.

Bagels that are purchased fresh can be stored in a tightly sealed plastic bag in the bread box (not in the refrigerator); after the next day, cut them in half and freeze them in an airtight container. For refrigerated or frozen bagels, follow directions on the package.
Wheat Foods Council www.wheatfoods.org


Bagels are formed from an eggless dough (flour, yeast, water and oil) into a donut shape, then droped in rapidly boiling water, cooked 3 - 5 minutes on one side then flipped and cooked 3 -5 minutes more on the other side. Drained, sometimes brushed with egg and then baked for 10 to 15 minutes.