See also: Bacon Trivia & Facts
BACON TIPS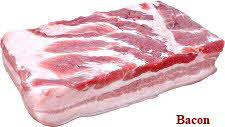 Cooked bacon loses about 80% of its raw weight (which is mostly fat and a small amount of water).
This is why raw bacon has about 126 calories per slice, and cooked crisp bacon has only about 35 calories.

1/2 cup crumbled Bacon = 8 crisp cooked slices

Bacon is cured and smoked pork. In the U.S. pork bellies are used, Canadian bacon is made from the rib eye of boneless pork loin , and most European countries use the ham (thigh) or shoulder to make bacon.

Regular sliced bacon is .062 inches thick (1/16 inch) 16 - 20 slices per pound. Thin sliced bacon is .031 inches thick (1/32 inch) 28 - 35 slices per pound, and thick sliced bacon is .111 inches thick (1/8 inch) 12 - 14 slices per pound.

An opened package of bacon keeps for about 1 week. Unopened vacuum sealed packages of bacon will keep in the freezer for about a month before the fat begins to oxidize and turn rancid.

Blanch heavily salted bacon in boiling water for a minute before using in recipes to reduce the amount of salt in the bacon.