See also: Almond Paste
ALMONDS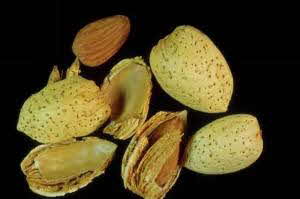 Roasted almonds are slightly harder in texture than natural almonds because the dry-roasting process removes some of the moisture. Natural almonds are better for baking and cooking.

There are about 23 almonds per one ounce serving.

Pack
Shelled whole dry-roasted and shelled whole natural almonds are packed in 2-pound cartons.

Storage
• After opening, almonds will keep 4 to 6 months under refrigeration.

• Opened nuts, if frozen, will keep for 9 to 12 months.

Uses and Tips
• One pound of whole almonds measures 3 cups.

• Dry-roasted almonds have a shorter shelf life than natural almonds.

• Almonds can be substituted in any recipe calling for nuts.

• Almonds are a tasty and nutritious addition to rice dishes, vegetable dishes, casseroles, stuffings, salads, baked goods and desserts; they also make an excellent substitute for bread crumbs as a topping for casseroles or in a breading for fish.

• To toast almonds, spread in a single layer on a baking pan and bake at 300-350°F for 8-10 minutes, stirring occasionally until almonds darken slightly (they will continue to brown slightly when removed from the oven).

Nutrition Information
• Shelled Almonds are a vitamin E-rich food; because of their skins, they are even higher in vitamin E than blanched almonds. One ounce (about 20-25 almonds) provides 35% of the daily value for vitamin E.

• Almonds are also high in protein, having as much protein, ounce for ounce, as red meat, but without the cholesterol.

• The fat content in almonds: 72% is monosaturated (the "good" fat), 21% is polyunsaturated fat, and only 7% is saturated fat.

• 1/3 cup of almonds provides 1/3 serving from the Meat, Poultry, Fish, Dry Beans, Eggs, And Nuts Group of the Food Guide Pyramid.

Nutrition Facts
Serving size 1/3 cup (39g) shelled almonds
Amount Per Serving & % Daily Value
• Calories 225
• Fat Cal 178
• Total Fat 19.0g 29%
• Saturated Fat 1.3g 6%
• Cholesterol 0mg 0%
• Sodium 0mg 0%
• Total Carbohydrate 6g 2%
• Dietary Fiber 5g 20%
• Sugars 1g
• Protein 9g
• Vitamin A 0%
• Vitamin C 0%
• Calcium 10%
• Iron 7%
*Percent Daily Values are based on a 2,000 calorie diet.
USDA Food & Nutrition Service