SAUTEED CELERY ROOT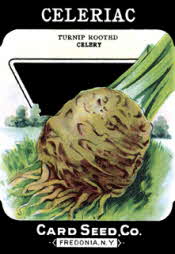 All root vegetables can be sautéed. However, because of their density they must be cut into thin slices or a small dice. If not, the exteriors will burn before the center is cooked.
Also see article: The Root of the Matter

Ingredients
1 lb. Celery root cut into small dice
Olive oil as needed
Butter as needed
Chopped parsley to taste
Salt and pepper to taste.

Directions
Peel and cut the celery root into a small dice.

Heat a sauté pan and add a combination of olive oil and butter. Sauté the celery root until soft, finishing with parsley, salt and pepper.

For another twist, deglaze the pan with a little bit of cognac and add a little cream at the very end.

Or, make glazed celery root. Place the diced celery root in a sauté pan with butter and a teaspoon of sugar. Add enough water to come halfway up the vegetable. Simmer until the celery root is soft and the water and sugar have reduced to a syrupy glaze, about fifteen minutes. Finish with herbs, salt and pepper.

You can substitute other root vegetables for the sautéed or glazed versions of the celery root or do combinations.