CELERY & APPLE STEAM-FRY WITH HONEY-MUSTARD SAUCE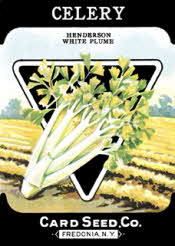 Makes 4 servings
Each serving equals one 5 A Day serving

Ingredients
1 cup water
4 cup celery, diagonally sliced ½" thick
2 cup sweet red apples (approx. 2 medium) diced
2 Tbsp Dijon-style mustard
1 Tbsp honey
1 tsp cornstarch
1/8 tsp ground black pepper
¼ cup walnuts, chopped toasted

Directions
In a large skillet bring water to a boil.

Add celery and apples; cook and stir until crisp-tender, about 8 minutes.

In a small bowl combine mustard, honey, cornstarch and black pepper with 2 Tbsp. water.

Add to celery mixture, stirring constantly; cook and stir until clear and thickened, about 1 minute.

Stir in walnuts, if desired.

Nutritional analysis per serving: Calories 104, Protein 2g, Fat 3g, Calories From Fat 27%, Cholesterol 0mg, Carbohydrates 19g, Fiber 4g, Sodium 296mg.
Source: Produce for Better Health/American Celery Council