RIBEYES WITH BOURBON PECAN BUTTER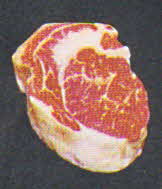 Quick-Fix Southern
by Rebecca Lang
There's no other cut of steak I'd rather eat than a ribeye. The steak is a slice off the rib section and has the perfect marriage of tenderness and flavor. Make sure the butcher leaves the lip (sometimes called the cap) on the steak. It's my favorite part because it's more fatty than the rest of the steak and incredibly tender.
Chilling Time: 1 hour
Serves 4

INGREDIENTS
· 1/2 cup unsalted butter
· 2 tablespoons finely chopped toasted pecans
· 1/2 teaspoon bourbon
· 1/8 teaspoon salt
· 1/8 teaspoon freshly ground black pepper
· 1 teaspoon chopped fresh flat-leaf parsley
· 4 ribeye steaks, 1 inch thick, about 3/4-pound each
· 2 tablespoons olive oil
· Salt
· Freshly ground black pepper

DIRECTIONS
To make the Pecan Bourbon Butter, combine the butter, pecans, bourbon, salt, pepper, and parsley in a small mixing bowl. Transfer to a sheet of plastic wrap and shape into a 3½-inch log. Chill for 1 hour.

Rub both sides of the steaks with olive oil. Season with salt and pepper.

Heat a cast-iron skillet over medium heat. Cook the steaks for about 4 minutes on the first side and 3 minutes on the second side for medium-rare.

Transfer the steaks to a plate. Top each steak with a 1/4-inch-thick slice of Pecan Bourbon Butter. Allow the steaks to rest for at least 5 minutes before serving.
TIPS:
Always take meat off the heat when it's about 10 degrees lower than the desired serving temperature. The temperature will rise as the meat rests.
Serving Temperatures For Beef:
130° F Rare
140° F Medium-rare
150° F Medium
160° F Well-done