RED RASPBERRY CHEESECAKE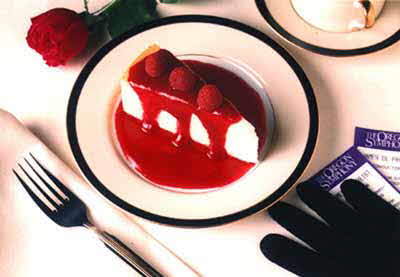 Serves 10-12
INGREDIENTS
For the crust:
2 cups crushed vanilla wafers
3 Tablespoon chopped toasted almonds
4 Tablespoon melted margarine or butter

For the filling:
24 oz. low fat cream cheese
2/3 cup sugar
5 Tablespoon cornstarch
3 eggs
1 egg yolk
1/2 cup whipping cream
1/2 cup amaretto (or any liqueur of your choice)
2 tsp. almond extract (vanilla, if not using amaretto)

For the sauce:
(2) 12 oz. packages IQF raspberries, thawed
5 Tablespoon amaretto (optional)
1/3 cup sugar

DIRECTIONS
FOR THE CRUST:
In a small bowl stir together crushed cookies and chopped almonds. Add butter and stir to combine. Press mixture into the bottom of a greased 9" springform pan.

FOR THE FILLING:
In a large bowl combine cream cheese, sugar and cornstarch. Beat until smooth with an electric mixer. Add eggs, one at a time, beating well each time. Add yolk and beat again. Stir in the whipping cream, amaretto and almond extract. Mix well. Pour mixture into the crust. Bake at 400 degrees F. for 10 minutes; lower temperature to 200 degrees F. and bake for 1 hour and 15 minutes or until the center no longer looks shiny. Remove the cheesecake from the oven and run a knife around the inside edge of the pan. Turn the oven off; return the cake to the oven for an additional 30 minutes. Remove from oven and chill for 3 hours or more.

FOR THE SAUCE:
Puree thawed berries in blender, food mill or food processor and strain through a fine sieve over a wide bowl to remove all seeds.

Heat puree with sugar till mixed. Remove from heat and add liqueur. To serve cheese cake pool 1/4 cup of sauce on each plate. Place serving of cheesecake on sauce. Garnish ideas: toasted almonds, whole fresh or IQF raspberries, white rose petals. Serve in heart shaped puree pools.

NUTRITIONAL ANALYSIS:
Calories Per Serving: 495; 12.3g Protein, 26.2g Fat, 30.4 Carboydrate, 183mg Cholesterol.
Oregon Raspberry & Blackberry Commission
Valentine's Day Recipe